SELECTION BETWEEN AND WITHIN SEGREGATING SOYBEAN POPULATIONS VIA SIMULATED INDIVIDUAL BLUP (BLUPIS)
André Ricardo Gomes Bezerra

Felipe Lopes da Silva

Tuneo Sediyama

Cosme Damião Cruz

Amilton Ferreira da Silva

Francisco Charles do Santos Silva

Daniele Piano Rosa
Keywords:
Glycine max, individual selection, REML/BLUP, grain yield
Abstract
The use of methods with high statistical accuracy in the selection of genotypes can provide substantial gains to breeding programs. This study evaluated the suitability of the best linear unbiased prediction at individual level (BLUPI) with simulated individual BLUP (BLUPIS) procedure to select individuals in segregating soybean populations. Fifteen segregating populations were evaluated in the field during the 2014/15 crop season. Data for grain yield (g/plant) and growth cycle in days (divided in early and late) were collected and analyzed via restricted maximum likelihood/best linear unbiased prediction (REML/BLUP). In general, 67–92% of the individuals were selected in the three best populations. The efficiency of BLUPIS relative to BLUPI was 4.66 and 1.46 for grain yield and growth cycle, respectively. There was strong correlation between BLUPIS and BLUPI for grain yield. The selection by BLUPIS was more efficient than BLUPI for all the traits studied and contributes to the selection of individuals in representative numbers of the best populations, thereby providing substantial gain for soybean breeding programs.
Downloads
Download data is not yet available.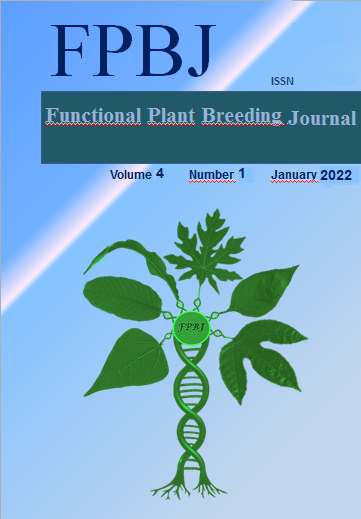 How to Cite
Ricardo Gomes Bezerra, A., Lopes da Silva, F., Sediyama, T., Damião Cruz, C., Ferreira da Silva, A., Charles do Santos Silva, F., & Piano Rosa, D. (2022). SELECTION BETWEEN AND WITHIN SEGREGATING SOYBEAN POPULATIONS VIA SIMULATED INDIVIDUAL BLUP (BLUPIS). Functional Plant Breeding Journal, 4(1). Retrieved from http://www.fpbjournal.com/fpbj/index.php/fpbj/article/view/136