PARAMETERS AND GENETIC VARIABILITY IN BLACK BEANS F5 FAMILIES
Vitor Quadros

Ivan Ricardo Carvalho

Gustavo Henrique Demari

Velci Queiróz de Souza

Luiz Leonardo Ferreira

Natã Balssan Moura

Tamires da Silva Martins

José Antonio Gonzalez da Silva

Francine Lautenchleger

Murilo Vieira Loro
Keywords:
haseolus vulgaris L., improvement of plants, multivariate selection of traits, food security, sustainable development
Abstract
The objective of this work was to contrast expectations of the segregating generations F2, F3, F4, and F5 with homozygous genetic constitutions, to determine the genetic parameters, dissimilarities through multivariate models, and the associations between characters of agronomic importance for the breeding of black beans. The experiment was conducted in the 2017/2018 crop season in the county of Tenente Portela – RS, Rio Grande do Sul, Brazil. The experimental design used was that of augmented blocks, with the cultivars IAC Imperador, IPR Tangará, BRS Estilo composing the common treatments, considered as pure lines, and 131 lineages of the F5 segregating generation, composing the unusual treatments, arranged in three blocks. After the characterization of the 134 genotypes, it was possible to verify that through Singh's relative contribution, the character of number of seeds per plant was the most decisive for the genetic variability of this study. The use of biometric methods allows it to be possible to evidence patterns in relation to the genotype clusters, through the use of standardized average Euclidean distance patterns, Tocher's optimization method, UPGMA clustering method, and Artificial Neural Networks with unsupervised learning. With the results obtained, it was possible to verify the existence of genetic variability among the studied populations, allowing the cluster analysis to delimit
Downloads
Download data is not yet available.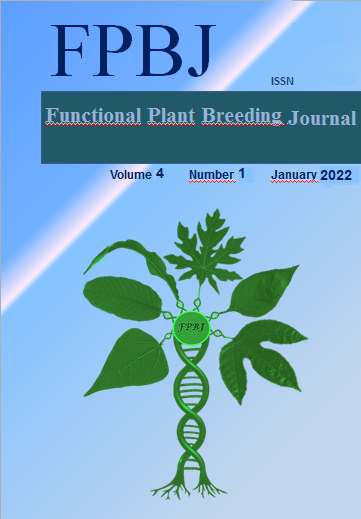 How to Cite
Quadros, V., Ricardo Carvalho, I., Henrique Demari, G., Queiróz de Souza, V., Leonardo Ferreira, L., Balssan Moura, N., da Silva Martins, T., Antonio Gonzalez da Silva, J., Lautenchleger, F., & Vieira Loro, M. (2022). PARAMETERS AND GENETIC VARIABILITY IN BLACK BEANS F5 FAMILIES. Functional Plant Breeding Journal, 4(1). Retrieved from http://www.fpbjournal.com/fpbj/index.php/fpbj/article/view/143