STRATEGIES AND PRACTICAL ASPECTS IN GUAVA (PSIDIUM GUAJAVA L.) BREEDING: 12 YEARS OF EXPERIMENTS
Flavia Alves da Silva

Alexandre Pio Viana

Natan Ramos Cavalcante

Antônio Teixeira do Amaral Júnior

Messias Gonzaga Pereira
Keywords:
perennial crops, interspecific crosses, genetic gain
Abstract
The process of plant breeding of perennial species is quite different from annual species due to several particular biological aspects. In addition, information about this process in adjacent cultures, such as the guava exemplified here, is scarce and is of great value to any breeder. In this review, we seek to share as many questions as we deem relevant about our guava genetic improvement program, addressing aspects of overlapping generations, long reproductive cycle, phenotype expression at different ages in the same individual, and biotechnological tools. These issues brought about the need for greater rigor and precision due to: repeated assessments over time on selected genotypes over several years; comparison of genotypes from different generations, which nested in time implies different environments; relevance of the individual representing a genotype as a unit of selection; and availability of data related to the survival rate of plants over age, time and generations, requiring more elaborate statistical methods. Finally, in addition to culture-specific practical issues, we brought an example of our approach to try to introduce favorable genes for resistance to disease in guava.
Downloads
Download data is not yet available.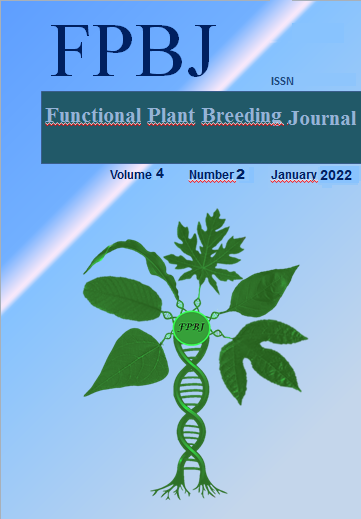 How to Cite
Alves da Silva, F., Pio Viana, A., Ramos Cavalcante, N., Teixeira do Amaral Júnior, A., & Gonzaga Pereira, M. (2022). STRATEGIES AND PRACTICAL ASPECTS IN GUAVA (PSIDIUM GUAJAVA L.) BREEDING: 12 YEARS OF EXPERIMENTS. Functional Plant Breeding Journal, 4(2). Retrieved from http://www.fpbjournal.com/fpbj/index.php/fpbj/article/view/153