SALUTAR: FIRST CULTIVAR BRED FOR SOLUBLE COFFEE PRODUCTION AND HEALTH
Fábio Luiz Partelli

Gleison Oliosi

Adriana Farah

Juliana de Paula

Henrique Falqueto de Oliveira

HenzoPezzin Salvador
Keywords:
Coffea canephora, chlorogenic acids, soluble solids, coffee robusta
Abstract
Salutar is a cultivar composed of five Coffea canephora genotypes, derived from clones discovered and bred by farmers, in Espírito Santo, Brazil. A group of 42 promising C. canephora genotypes was selected. These genotypes were propagated by cuttings and planted in an experimental area for selection for high yield potential and agronomic traits of interest. A design in randomized blocks with three field replications and seven plants per replication was used and the laboratory analyses were replicated three times. The cultivar produces high yields and the contents of total soluble solids, caffeine and chlorogenic acids in the green beans are higher than the traditional mean contents of Coffea canephora grown in Brazil. It was the first study focused on developing a cultivar with high levels of soluble solids and chlorogenic acids in green Conilon coffee beans. Cultivar Salutar is suitable for climatic conditions similar to those of this study, in other words, recommended for the State of Espírito Santo, south of Bahia and east of Minas Gerais, at less than 600 m asl.
Downloads
Download data is not yet available.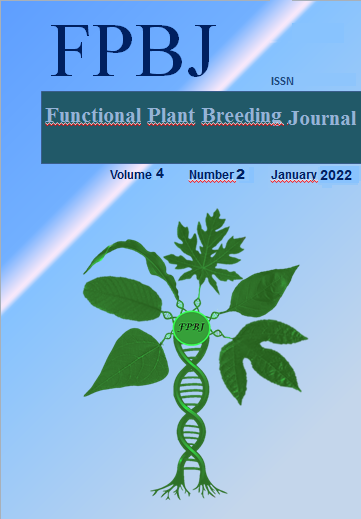 How to Cite
Luiz Partelli, F., Oliosi, G., Farah, A., de Paula, J., Falqueto de Oliveira, H., & Salvador, H. (2022). SALUTAR: FIRST CULTIVAR BRED FOR SOLUBLE COFFEE PRODUCTION AND HEALTH. Functional Plant Breeding Journal, 4(2). Retrieved from http://www.fpbjournal.com/fpbj/index.php/fpbj/article/view/159