SELECTION BETWEEN WATERMELON (CITRULLUS LANATUS) ACCESSIONS VIA THEIR ASSOCIATED MICROBIOTA
Rania Aydi-Ben-Abdallah

Hela Chikh-Rouhou

Hayfa Jabnoun-Khiareddine

Mejda Daami-Remadi
Keywords:
Breeding, Citrullus lanatus, rhizosphere microbial community
Abstract
Microbiome engineering, which can improve the functional capabilities of native microbial species under challenging agricultural ambiance, is an emerging biotechnological strategy to improve crop yield and resilience against biotic and abiotic environmental constraints. In this study, the microbial community structure in the rhizosphere of 7 watermelon accessions was monitored using the soil dilution plating technique on specific media. All accessions tested were screened for their root growth before planting to select accessions with an improved root system. The fruit production was determined at four months post-planting. The total soluble solids (TSS) content was measured on flesh of sampled fruits. The dendrogram of hierarchical ascending classification clustered watermelon accessions into two main groups. The 1st cluster comprised two accessions P1 and P8 which were characterized by the highest abundance of actinomycetes and Aspergillus spp. communities in their rhizopshere, the highest weight of fruits with sweet taste. The current study clearly demonstrated that the soil microbial community structure has been shaped by Citrullus lanatus accessions. Future watermelon breeding programs will be focused on the selection of accessions that are quite able to exploit these associated beneficial microbial communities for enhanced growth and improved resistance to associated biotic stresses.
Downloads
Download data is not yet available.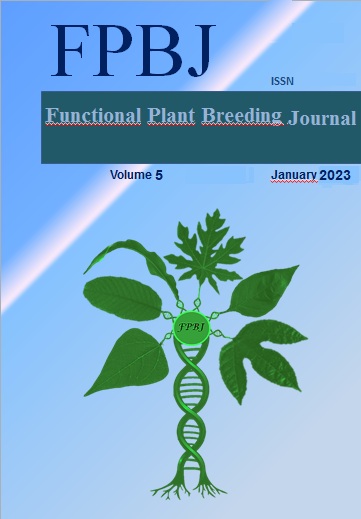 How to Cite
Aydi-Ben-Abdallah, R., Chikh-Rouhou, H., Jabnoun-Khiareddine, H., & Daami-Remadi, M. (2023). SELECTION BETWEEN WATERMELON (CITRULLUS LANATUS) ACCESSIONS VIA THEIR ASSOCIATED MICROBIOTA. Functional Plant Breeding Journal, 5(1). Retrieved from http://www.fpbjournal.com/fpbj/index.php/fpbj/article/view/178