PERFORMANCE OF EARLY-CYCLE SOYBEAN GENOTYPES FOR USE IN A SUGARCANE ROTATION SYSTEM
Julia Godoy Alexandrino

Dardânia Soares Cristeli

Lígia de Oliveira Amaral

Alice Pereira Silva

Alyce Carla Rodrigues Moitinho

Thayná Pereira Garcia

Hortência Kardec da Silva

Rafael Silva Ramos dos Anjos

Amanda Liz Pacífico Manfrim Perticarrari

Sandra Helena Unêda-Trevisoli
Keywords:
Adaptability; Stability; Crop rotation.
Abstract
Sugarcane and soybean are relevant crops for Brazilian agribusiness, and the demand for their products and by-products is growing worldwide. The Soybean x Sugarcane (SSC) production system operates with high efficiency and contributes to the sustainability of agribusiness. Soybean cultivars suitable for use in SSC must have an early cycle, adaptation to the edaphoclimatic region, and high yield. The Value of Cultivation and Use (VCU) assays are conducted in different edaphoclimatic regions, to identify promising soybean genotypes in an advanced stage of inbreeding. The objective of this work was to identify soybean genotypes with high adaptability and stability that are possible candidates for registration and protection of new commercial cultivars, for use in the SSC system in the São Paulo State, Brazil. Twenty genotypes and four commercial cultivars were evaluated in six environments, in a randomized block design with three replications. To verify adaptability and stability, the AMMI method was used. Using the adopted methodology, it was possible to identify superior genotypes for SSC that showed good adaptability and general stability between the evaluated environments, being possible recommendable candidates for SSC in the edaphoclimatic regions in which they were evaluated.
Downloads
Download data is not yet available.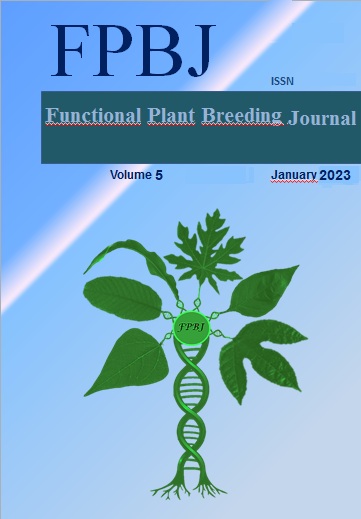 How to Cite
Godoy Alexandrino, J., Soares Cristeli, D., de Oliveira Amaral, L., Pereira Silva, A., Carla Rodrigues Moitinho, A., Pereira Garcia, T., Kardec da Silva, H., Silva Ramos dos Anjos, R., Liz Pacífico Manfrim Perticarrari, A., & Helena Unêda-Trevisoli, S. (2023). PERFORMANCE OF EARLY-CYCLE SOYBEAN GENOTYPES FOR USE IN A SUGARCANE ROTATION SYSTEM. Functional Plant Breeding Journal, 5(1). Retrieved from http://www.fpbjournal.com/fpbj/index.php/fpbj/article/view/179